So you're considering owning a Rottweiler Puppy?
Then I presume you already have owned, or do own a Rottweiler?
Or you've done all your comprehensive research on this remarkable,
and top of the line canine and are ready to make the

"life time

" commitment the Rottweiler will make on yes,

"your life!!!"
You 1st off have to understand the time, love, labor and toil and
the hard work it takes to become this breeds most trusted and needed friend. The Rottweiler is unlike any other breed of dog. They are an immediate family member. They require room to run to develop their most beautiful muscular bodies , Your time and

110% attention

for mental growth to develop the bond with the family

"they"

adopt!
If what I have said compels you to go forward and get a Rottweiler?
Then get your Rottweiler from

Vom ThunderHeart Rottweilers

! Following the loss in January 2019 of my best friend " Grizzly " With
a lot of time and research I came across this remarkable kennel.

"DEB"

is a very competent, dedicated and has many, many years as an experienced hard working owner, breeder and shower of these remarkable dogs. Their bloodlines are second to none. Research it for yourself. Further more, This is not a puppy mill atmosphere. This is a top of the line kennel. These Rottweiler's that own Deb lol, have a very large and professionally built living space areas with adjoining common areas. They have room to run, to develop and interact. These dogs have excellent social skills, beautiful coats and structure.
I purchased an

"undocked"

male from

"Vom ThunderHeart"
following the loss of my Grizzly. I named my Rottweiler puppy after his Father.

"KATO"

. Now here mid October. He is 10 months old, he has a remarkable stance and a beautiful coat. Beautiful defined deep mahogany markings. His disposition is wonderful. I am taking back by this pups intelligence and desire to please. The love he has for, and the trust I have around all three of my Grand Children with him. Truly remarkable.
I say this in closing, I am not a review person. I am a Rottweiler
person. With that said. You get in life what you pay for. When it comes to owning a Rottweiler puppy there is NO substitute. I simply want the best.

"Vom ThunderHeart"

is just that. The Best. Thank you Deb for allowing me to own and raise one of your finest pups.
Colorado, Rocky Mountain High ;o)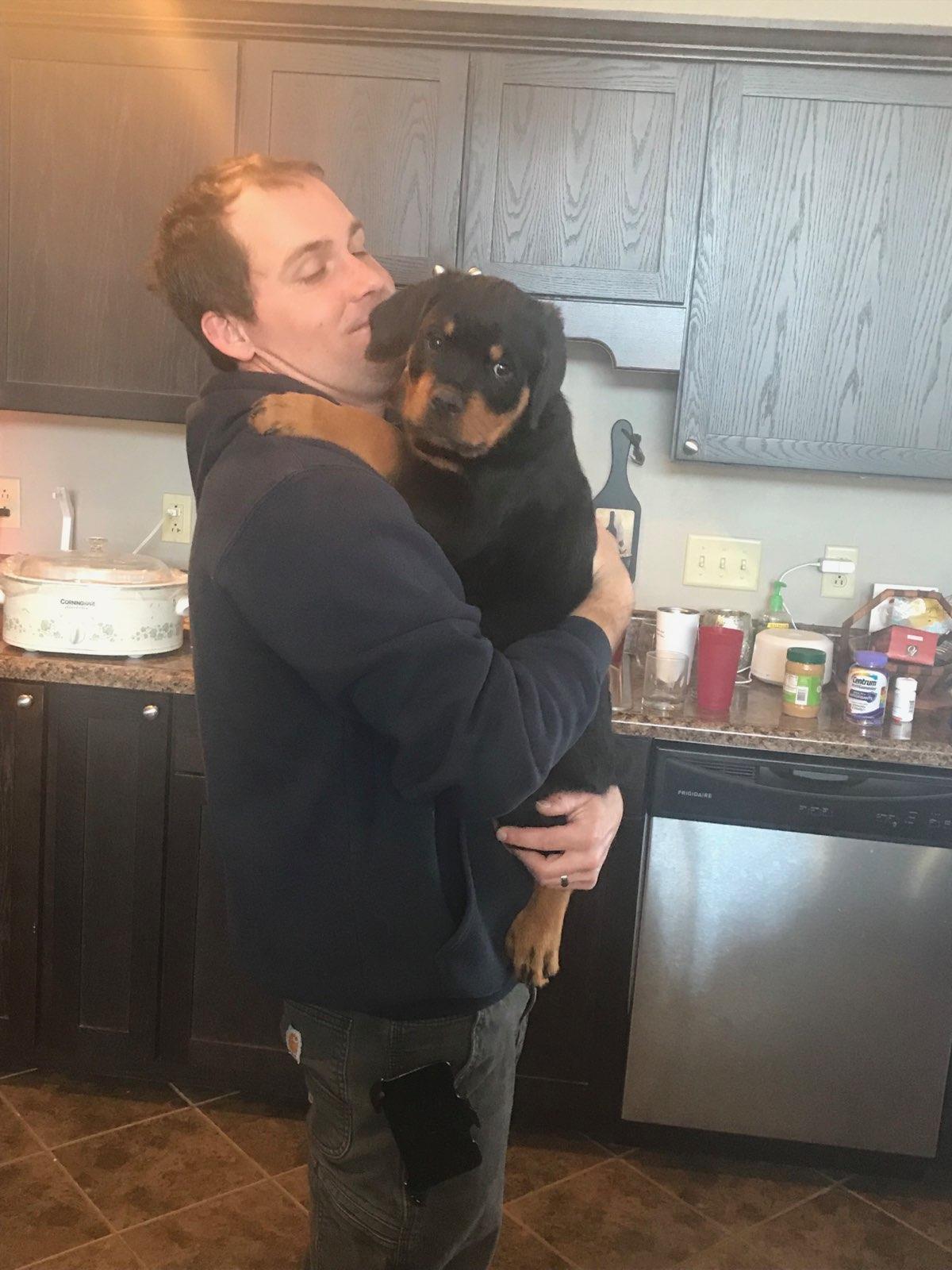 My husband and I did a lot of research trying to find the best breeder of Rottweilers that we could. We had a Rottweiler, Saber, who sadly passed in February of 2018. Saber is the reason we developed such a love of Rottweilers and will likely never look into any other breed. However, Because all of the health problems that he had, we knew how important it was to find a responsible breeder who cared far more about the animals than simply their dollar value. We came across what is now Vom Thunderheart Rottweilers around June of 2018 and knew this was the breeder for us. My husband spoke with Deb and had nothing but good things to say about her. We were expecting our puppy to be born in September or October, but as these things are out of our control, he wasn't born until mid-November. Although we were anxious along the way, Deb continually kept us updated with information and weekly pictures after the puppies were born. She took the time to get to know us to help us figure out which puppy would be the best match for us as we were not able to make a trip to Nebraska from Indiana. She made the perfect choice for us! We are in love with our sweet Axel! We have had him about a month and a half now and have no complaints about him! He is such a good learner and catches on to new things so well. We are working hard to keep him socialized and have not had any issues as he meets so many new people. Deb has always been available to answer any questions we have, before and after we received Axel. I have no doubt that she will continue to do so throughout his life. It is clear that she knows this breed and knows what is best for them. If we ever were to get another Rottweiler, without any hesitation, we would contact Deb right away!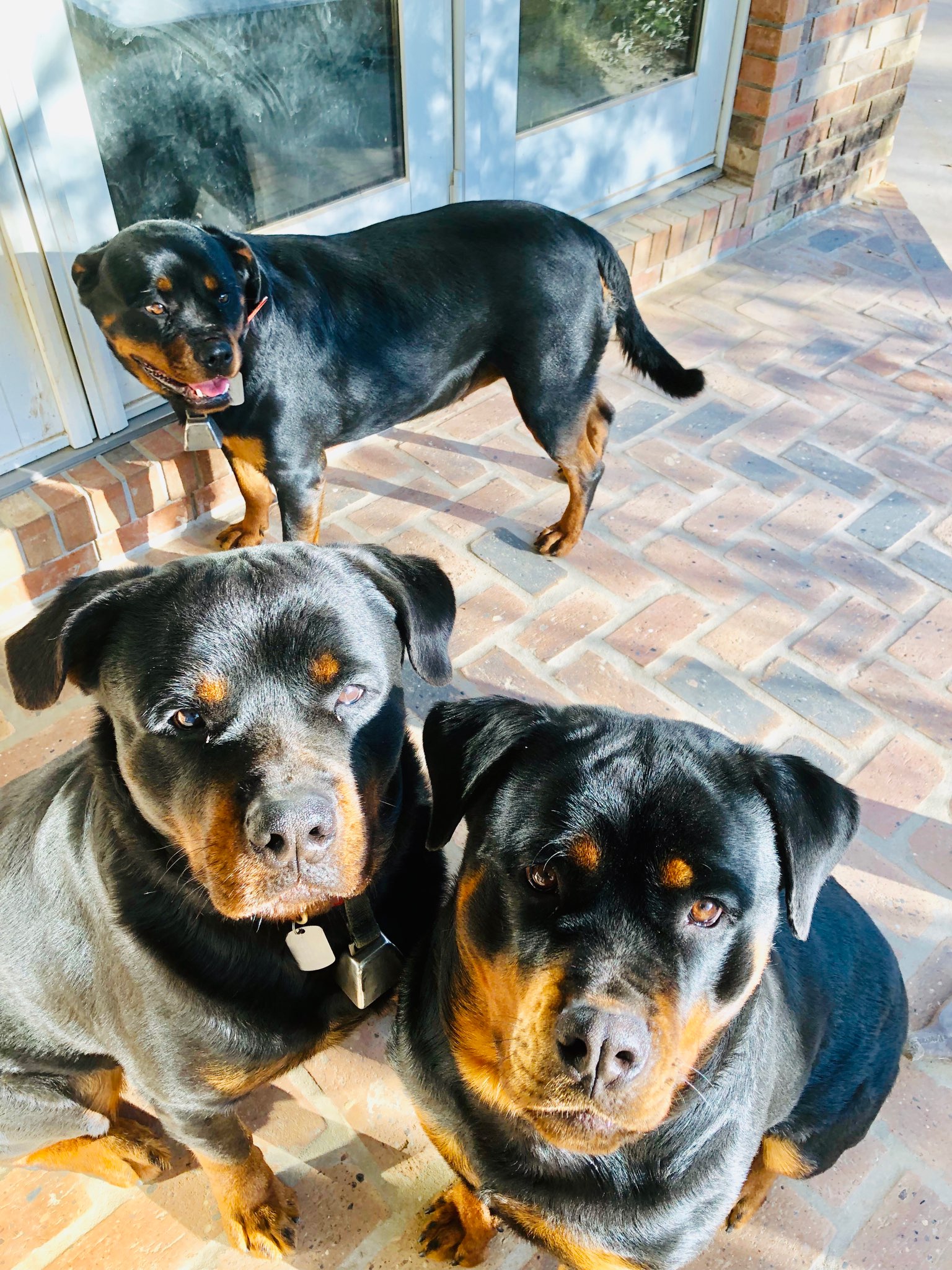 Larry and I have known Deb for about 6 years. She is honest, hardworking, she's true to her word . We met roadside while she was walking her dogs coming from a dog show on Tennessee. We took her card and contacted her about 1 year afterwards. We purchased a male puppy from her first then added female about about 2 years later and another pup a year later . We are the proud owners of 3 Rottweilers from Deb's stock ,ALL OUTSTANDING DOGS !!! Each time I explained the kind of dog we wanted amazingly she gave us exactly what we asked for. She definitely knows the breed and how to match a dog and it's owner. She makes herself available ANYTIME we need her. And I have to say I have needed her quite a few times and she was ALWAYS there for us . She lives and breaths her profession , it's truly her life !!! She's a real gem to find in this old world ....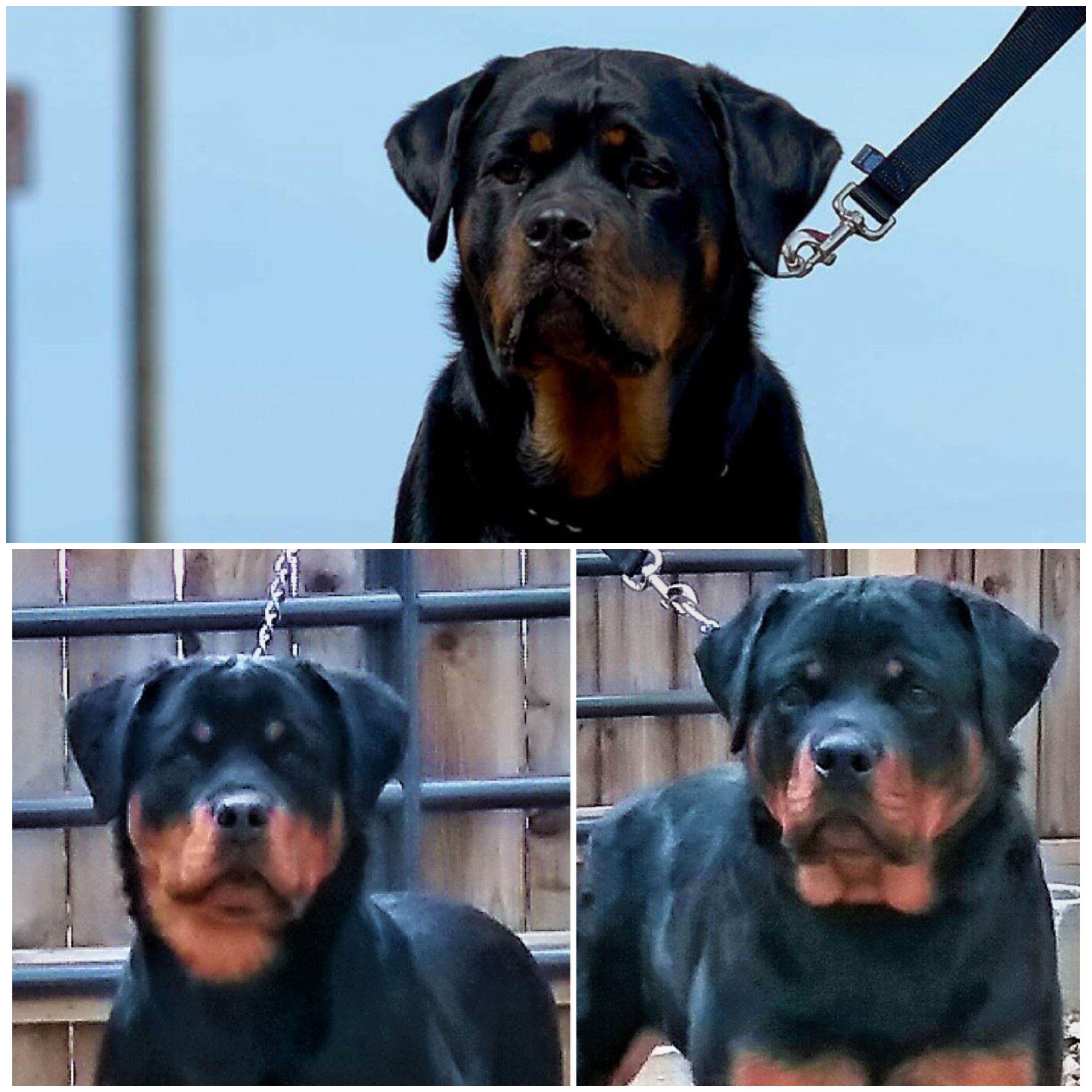 For as long as I can remember I have always admired the Rottweiler breed. I would often search the internet looking at different rottweiler sites but for some reason I was always attracted to the "Vom Thunderheart Rottweiler" (formerly Vom Vollenhaus rottweilers) beauty and mystique. I would often print pictures of Boris, Kapone, Jacco, Bull and Tompo and show my wife and dream of one day owning a puppy from these lines. After years of dreaming, my wife and I contacted Deb as listed on the website. She answered every question or concern with ease and even answered some questions I had not even thought of asking. She is a true professional with a big country heart and passion for her animals. My wife and I now own one of Bull's offspring who also happens to have Tompo's bloodlines as well, making our dreams come true. Deb made such a great impression on us; my mother bought the sister of our boy and we ended up purchasing another puppy less than 6 months later for my wife's birthday. We are so pleased with these Bloodlines and years of experience, knowledge and love given to these amazing dogs. Deb has stayed in contact with us and been there for advice for whatever the questions may be ranging on several topics. These are the smartest and most loyal animals I have ever had the experience to be around. We have 3 small children who absolutely adore our Vito and Bonnie and they love our family just as much. Thank you, Deb, and all Vom Thunderheart Rottweilers.
Sincerely,
The Albanese Family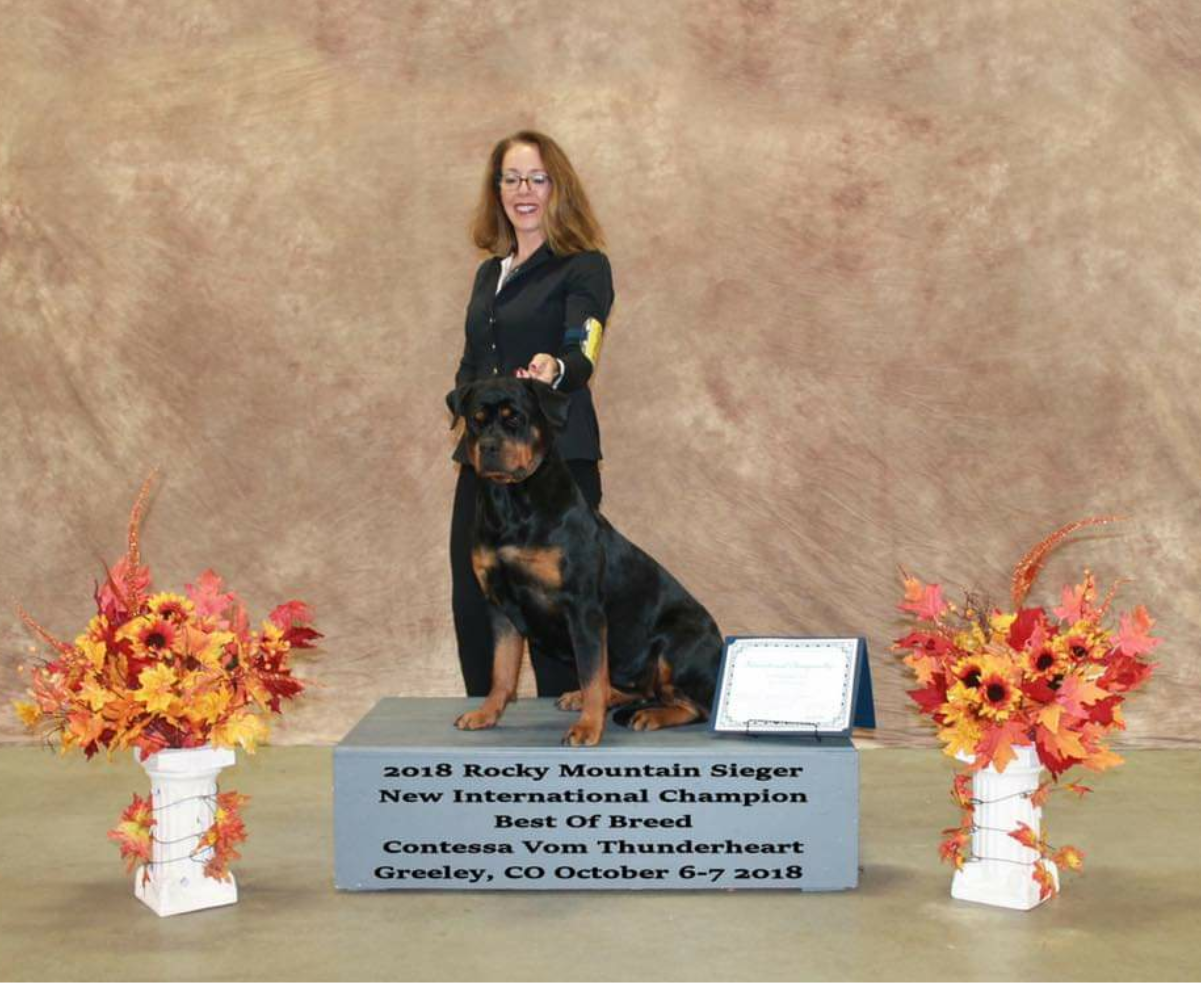 I purchased my pup from Deb in 2017. I wanted a show quality dog that would also be a great family dog, that is exactly what I got. She knows her dogs and if you let her help you choose the right dog for you, you will get what you want. I took my dog to her first show and she did not disappoint me. I have never shown so the learning curve has been steep, but comments from the judges were very consistent...beautiful head, superb temperament, solid structure, well balanced . She was just a year old and still has not gotten to her full size but she managed to win Best of Breed against a 3 yr old male. Now about the tail, I had never owned a Rott with a tail, mine have all been docked, so like most of you I was skeptical and unsure. That is a big dog to have with a tail, and well I had never had one, not sure I liked it. Etc. Well I couldn't have been more wrong, it took a short bit to get used to the tail, but I can honestly say I will never own another one without a tail. The expression that having a tail gives theses dogs in huge, the balance and movement is incredible. I had the opportunity to see puppies in the same litter with and without tails and hands down, those with tails have a better developed hind end, better balance and more presence than those without tails. When she postures up, she looks incredibly intimidating. I rather like that in my Rott.
Thanks for the amazing dog
Jackie Bishop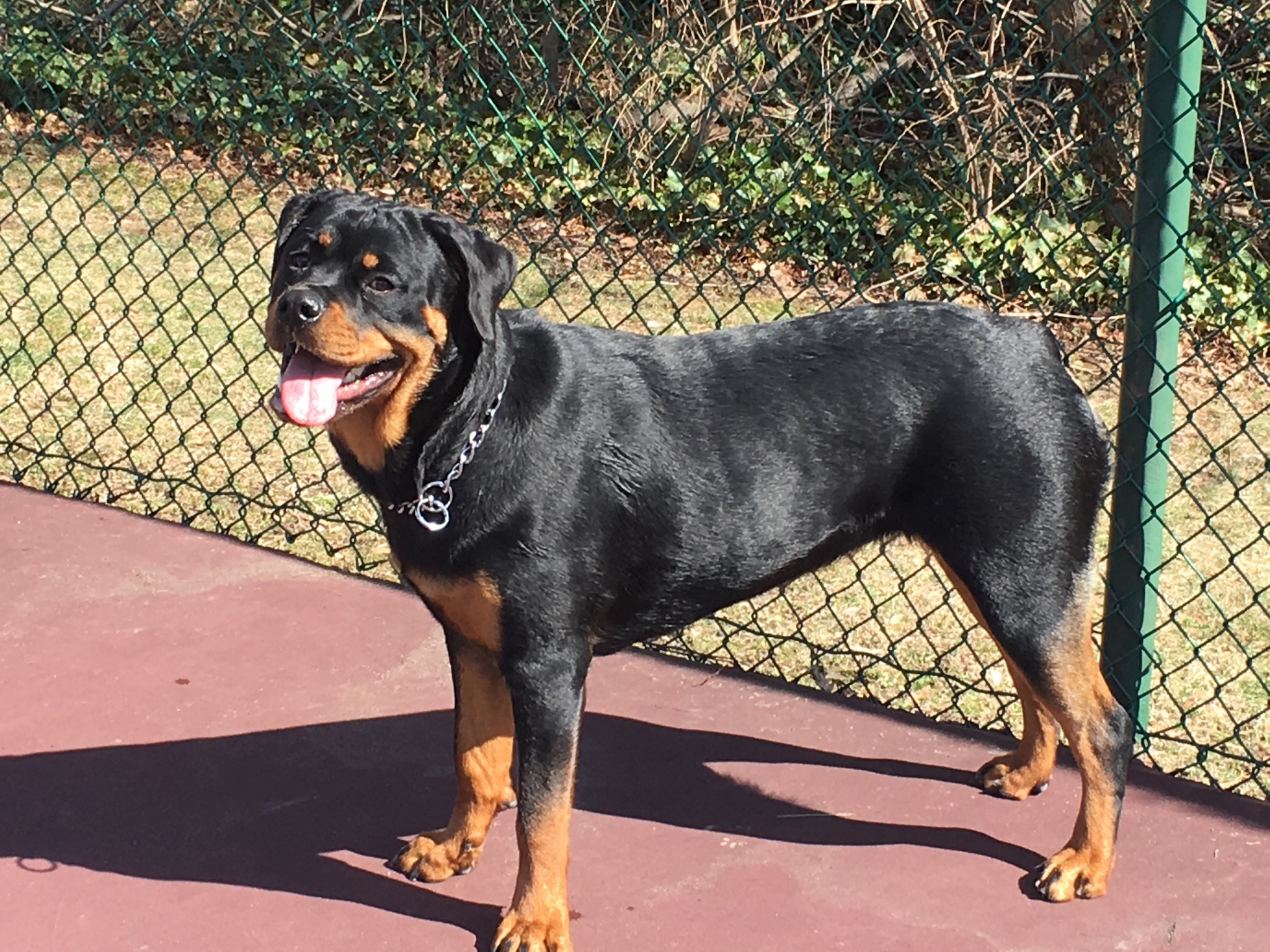 Our family has owned Rottweilers since 1992, we have never had a breeder as responsive and committed as Deb Peters. We belong to a local Philadelphia dog training club, Deb's dogs perform beautifully. Strong, confident, and eager to work and learn. Don't let distance concern you, we live across the country and get all the support we have ever needed from Deb in a very responsive manner. Great experience, great dogs, and even better people!
Best,
Pitone Family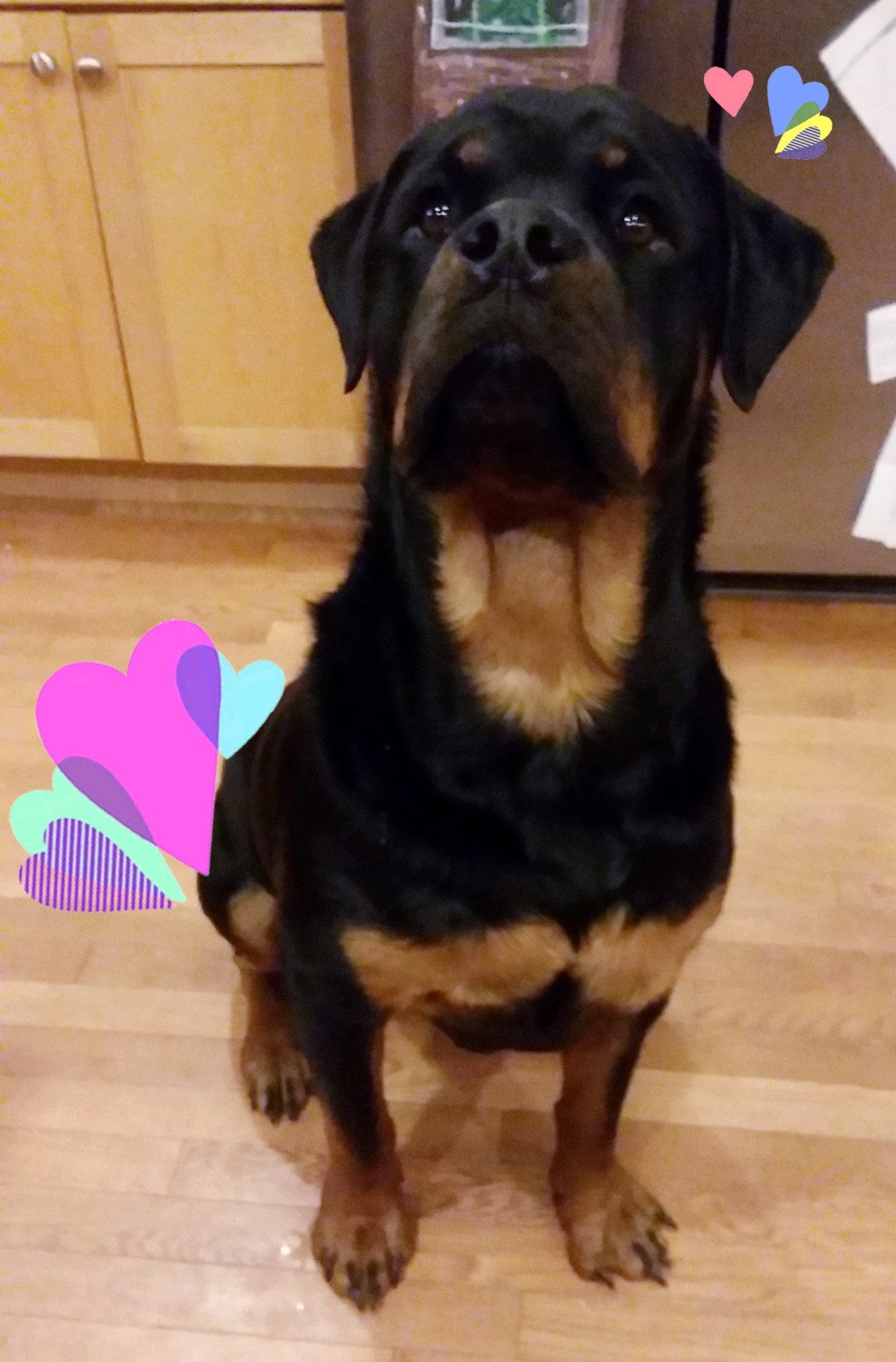 This is William Lee. He will be 2 years old this May. We had such a wonderful experience with Deb and her kennel! In fact I was ready to purchase another puppy from her most recent litter until we "acquired an unplanned puppy" LOL
I have four girls and two other dogs and William Is wonderful with all of them. We love this boy with all our hearts and will definitely be going back to Debs for our Rotties. Thanks Deb for being so wonderful!!!
jessica kirkpatrick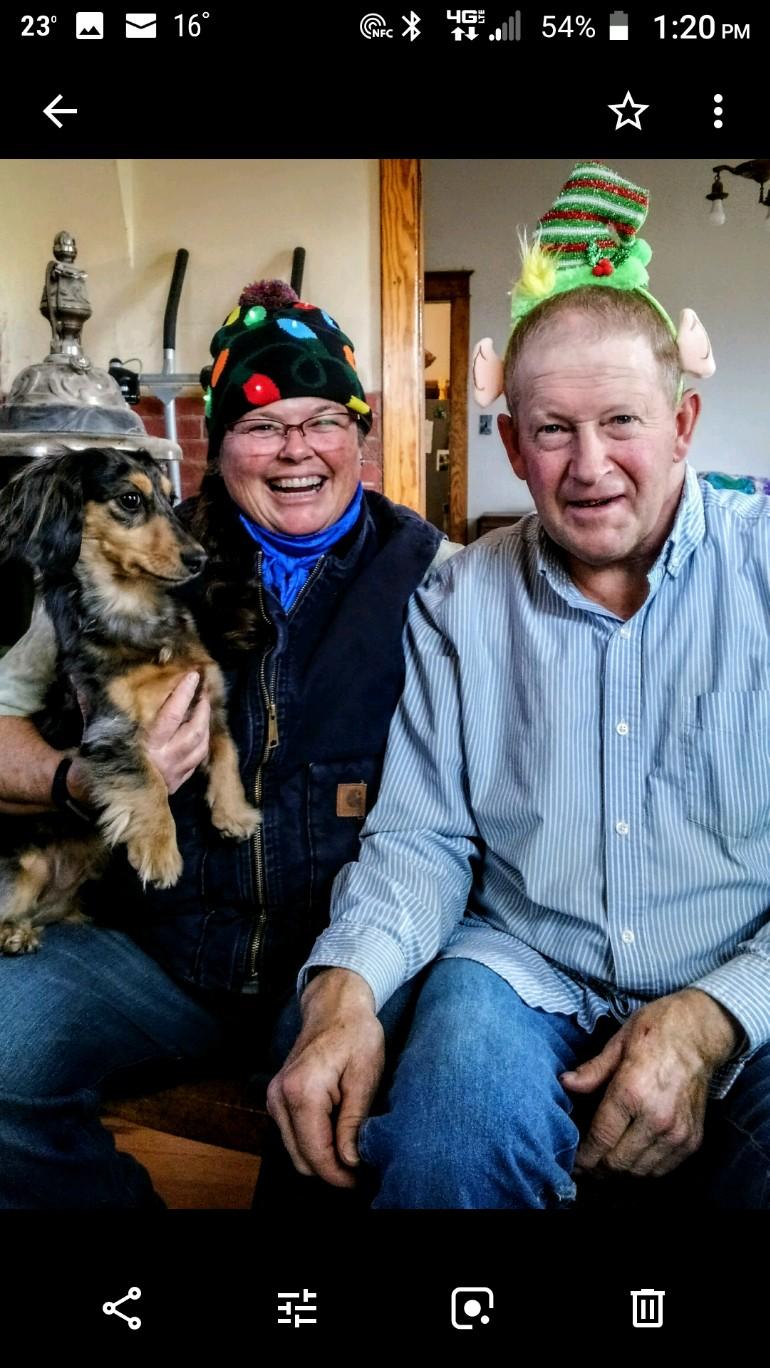 I found Deb Peters on the internet under AKC Dachshund site. I had lost my old boy several months before and was looking for a new pup. Deb had a litter available and got right back with me. She was super nice and easy to talk to. She sent pictures of the pups right away. When I chose Paul it was love at first sight. He is a wonderful dog. He is strong and vibrant and has never had a sick day. He has a good mind and a loyal heart. I recommend Deb to anybody who asks about Paul's origin. Her dogs are of excellent quality. If I was looking for another dog I would go right back to Deb. She is a wonderful person.I love him to pieces he is a beautiful boy
Kimberly Ruskanen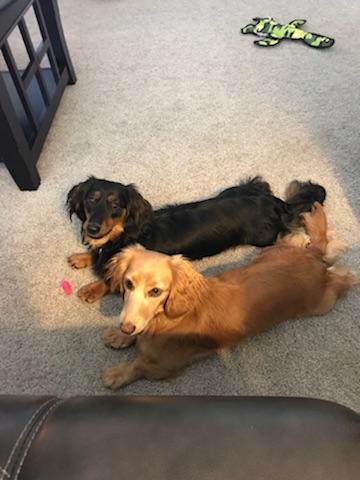 My husband and I were searching for Dachunds to adopt and we found Deb in Ogallala, NE. The process for adoption was simple and the price was fair. She sent us multiple photos of the littler of 6 and we were able to choose which puppy we wanted (if it wasn't already reserved). We drove 3+ hours from northern Colorado to pick up our 8 week old female puppy and we ended up leaving with two! The entire little was so cute we just couldn't resist. The brother-sister combo was a great decision and we have two very happy, healthy puppies, now a year and half old. I think Deb for the "happy healthy" part. She keeps a clean kennel, feeds the puppies a healthy diet, and makes sure they get their vaccinations before they can be adopted. I highly recommend the kennel and if you have a chance to adopt a puppy through her, jump on it. Regards, Jennifer & Mathew from Windsor, CO

Thank you .vomthunderheart for my pup. In doing our research you are the top breeder. It is obvious how much love your kennel puts into the breeding of top pups. My Willie is the sweetest yet a protector of his human momma.

9 years ago my husband surprised me with the cutest male Rotty pup I had ever seen. Broker is 9 now and is a great dog, companion, pet. Every time I take him out in public, people tell me how beautiful he is – and he is, he is perfect😊. With Deb's Rotty's you know what you are getting – big, healthy, happy dogs.
Suzanne and George Davis
Lee's Summit, MO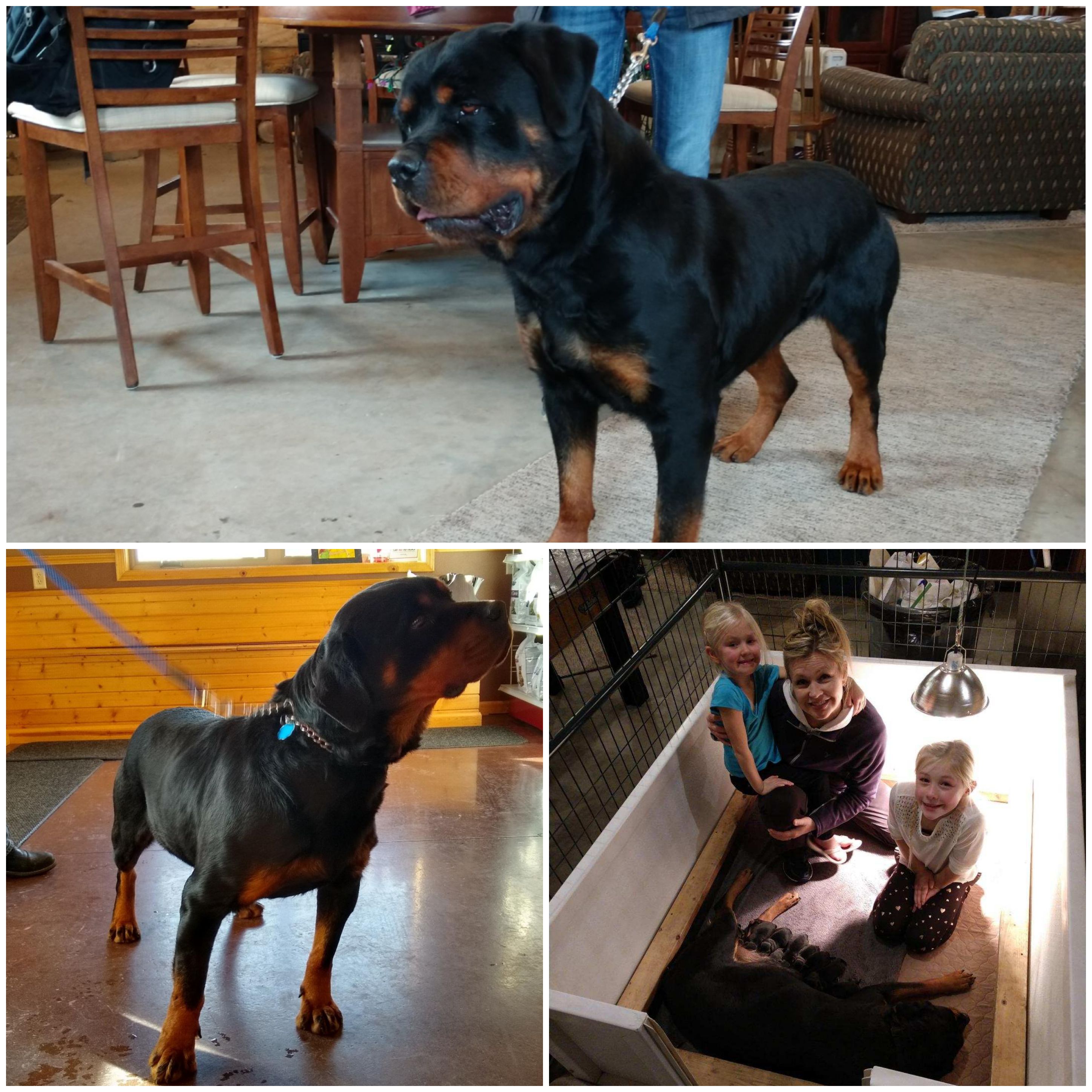 From buying great Rottweilers from Deb, to raising our own from her stock, we can not be thankful enough for all she is and does! Her heart is so big and her lines such high quality that she is a treasure to have in your Rottie loving life!! Thank you Deb from the whole family at Courageous K9 kennels!!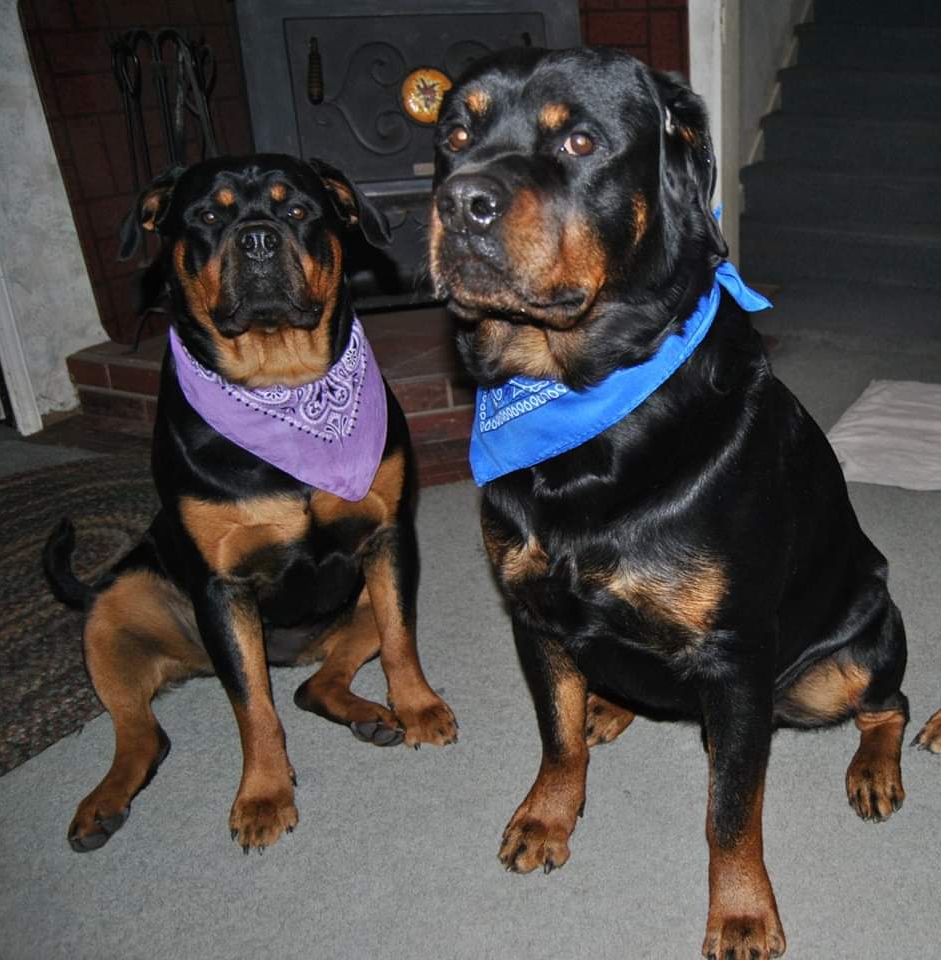 We couldn't be happier with Vom Thunderheart Rottweilers. Deb has been fantastic and I couldn't ask for a better breeder, mentor, and friend than Deb. We currently co-own a male and female that are such a joy to have under our roof. We previously had rescues and have always wanted a well-bred rottie. Ice and Sassy are just that. They are beautiful, smart, loveable, and have great drives. Everything that a Rottweiler is supposed to be. Everything we could ask for. We're always happy to see Deb when she happens to be traveling our way and has time to stop by. I love that she has been able to see her pups as they are/were growing up and we feel like one happy family now. Ice is 5 years old now and Sassy turned a year old in October 2018. Ice has passed all his OFA health testing and we'll be getting Sassy tested as soon as she turns 2. Ice is now an Int'l/Ch which makes us proud. Sassy and I are currently taking obedience classes and hope one day she will have titles. These things have confirmed to us that Vom Thunderheart has a great breeding program.

Al and Mary Beaver
Aurora Ne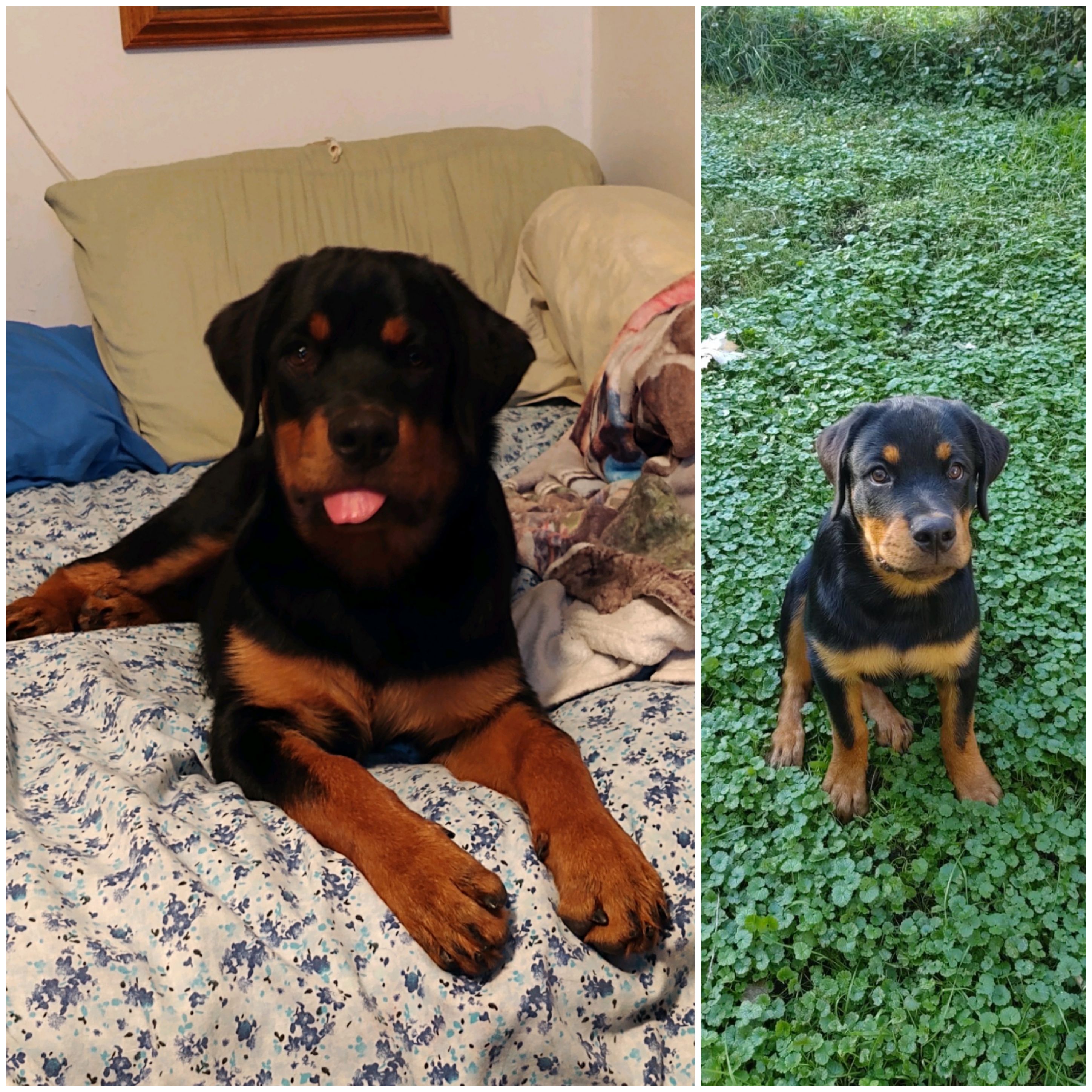 I couldn't be happier with my puppy that I purchased from Deb and Vom Thunder heart Rottweilers. She is true to her word.
She stands behind her dogs. She will give you advice when ever you need it or just need help. We had a concern with Simba. Deb spent close to two hours on the phone with me.
Simba is a beautiful boy. Smart as a whip and very loving and loyal. He is a joy to our family. I can't wait to see how he grows up.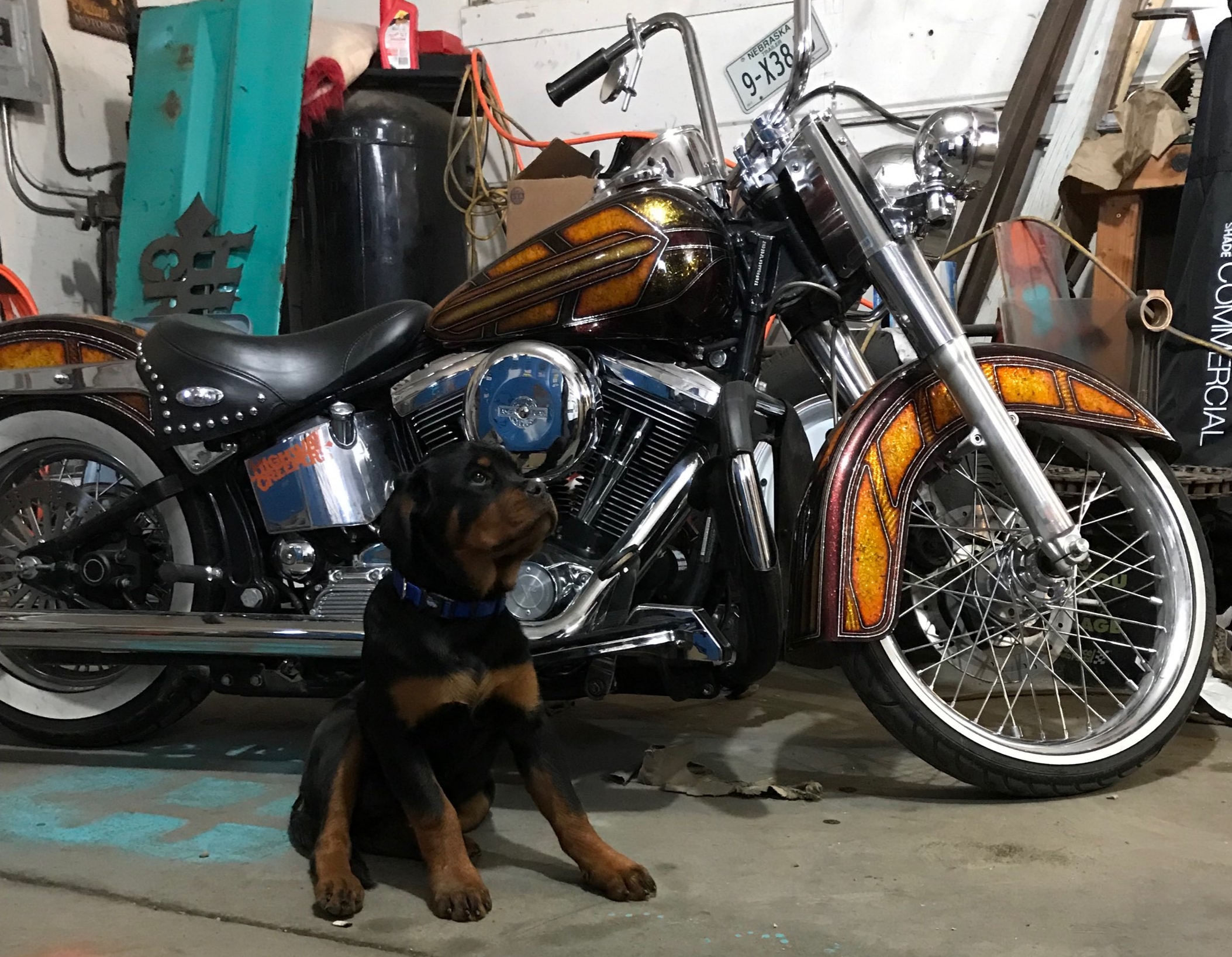 CO-OWNED LITTER WITH JUMP ROPE STABLES
I'd like to thank jump rope stables for uniting me with my Rottweiler. I enquired about purchasing a Rottweiler puppy from finding their website throu a friend. They were extremely prompt getting back ahold of me and explaining the puppies bloodline, temperament , food regiment and history of the dogs they raise. They made sure my intentions of raising the puppy to insure it was going to a forever home. They seamed like friends before I met them, meeting the puppies , dogs and people I knew I was in good company and they cared about the well being of their dogs. They answered any questions I had , and showed all history of the puppies shots , food, microchip , even bathed the puppy and sent me with documentation and literature on raising a puppy, such a pleasant experience dealing with people that cared as much about Rottweilers as I did, the puppy has been such a blessing, so well behaved and such a great demeanor, my local vet complimented my breeders work and paperwork they sent with me, I wish more breeders took the pride they did
Thank you so much
Sincerely Dave Geist
---
| Return Home | KENNEL | Males | Females | Young Dogs | Litters | For Sale | VOM THUNDERHEART 'WORLD WIDE' | Rottweiler Info | Contact Us | Show Results | DACHSHUNDS | Customer Testimonials |